Career Opportunities at WESTconsin Credit Union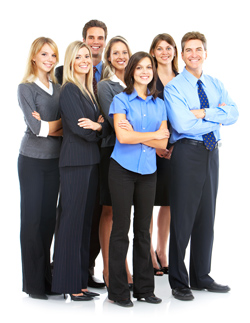 WEST
consin Credit Union is dedicated to hiring highly talented employees with skills related to the financial area. Our family-oriented organization places a large emphasis on quality, professional service and teamwork. We are looking for motivated, energetic, enthusiastic and friendly employees to join the
WEST
consin Team.
WEST
consin pays competitive wages and rewards both part-time and full-time employees with an excellent benefit package, including:
Health, dental and vision insurance


Competitive 401k retirement plan


Paid Time Off, earned immediately

Training
WEST
consin takes great pride in the programs we offer to our employees. Individuals at all levels receive ongoing training to help them grow professionally and personally. Our continuous focus on quality service and the importance of building relationships translates into well-developed employees who believe in the credit union mission of helping our members achieve financial success.
WEST
consin employees practice the FISH! philosophy daily! Training includes company orientation, product knowledge, member services and employee development.
WESTconsin Credit Union is an Equal Opportunity Employer
Below is a list of the current openings with our company. Click on any of the column titles to sort the list based on that field. Click on the job title to learn more about the opening.
| Job Title | Department | Location | Closing Date | Employment Type |
| --- | --- | --- | --- | --- |
| Limited Term Student Teller - Hudson High School (2 positions) | Financial Services - Hudson | Hudson, WI, US | 15-May-2014 (CST) | Temporary |
| Limited Term Student Teller - Amery High School (2 positions) | Financial Services - Amery | Amery, WI, US | 25-Apr-2014 (CST) | Temporary |
| Limited Term Student Teller - New Richmond High School (1 position) | Financial Services - New Richmond | New Richmond, WI, US | 30-Apr-2014 (CST) | Temporary |
| Limited Term Student Teller - River Falls High School (1 position) | Financial Services - River Falls | River Falls, WI, US | 30-Apr-2014 (CST) | Temporary |
| Full Time Member Services Representative - Eau Claire | Financial Services - Eau Claire | Eau Claire, WI, US | 25-Apr-2014 (CST) | Full Time |
| Full Time Mortgage Loan Originator - Menomonie Downtown | Mortgage Sales | Menomonie, WI, US | 09-May-2014 (CST) | Full Time |
| Full Time Teller - Menomonie Downtown | Financial Services - Menomonie Downtown | Menomonie, WI, US | 10-May-2014 (CST) | Full Time |
Get Notified of New Jobs at WESTconsin Credit Union